With the high demand for innovative and retentive products and services, associations are facing major pressure to keep their members happy and informed. By recognizing the difference between your millennials, generation x, and the baby boomer generation you can implement a successful strategy for your non-dues and maximize your non-due revenue potential.
With our 5 do's and don'ts, we will go over what associations are doing right in our 21st century and what they need to pay less attention to. We will also talk about the separation between our older generations and our younger millennials. What's effective and what isn't?
The most effective way to generate any revenue is to know your members. Though we like to create a gold standard for our members across the board, we have to remember the difference between our older generation and millennials. Different times lead to different interests which lead to a new set non-due revenue strategies for an association. By segmenting non-due revenue strategy by generation you can achieve a notable ROI for your non-due revenue strategy.
Strategies
New Member Portfolio
The idea is to pick and choose how you deliver information and ask for action from your members varying on their demographic. When sending a new member a portfolio introduction, keep in mind what generation they fall into.  Each generation values different aspects of the association and will respond as such.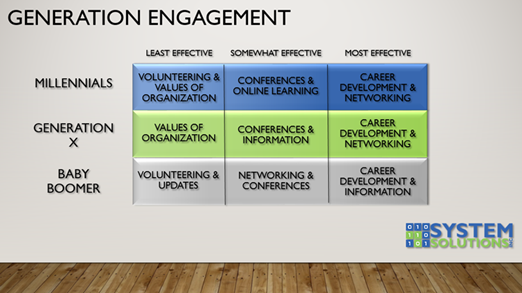 Millennials need content to be short and concise. They are also part of our digital era, so think of a way to engage with them via a website, portal, or application. Generation X is highly involved in their career focus and eager for information relevant to their career. Networking opportunities are also a large consideration for this demographic as they look to excel in their professional life. Baby Boomers like to be informed and to be kept up to date with news on the industry and the association. By giving them the ability to access the information they want most, you are allowing them to be more engaged and involved.
 2. Sponsorships
This is inclusive of your website, e-newsletter, and social media. All of the following, with the right connections, can have sponsorships incorporated into them. Whether it be a "partners" section of your website, an advertisement on your newsletter, or a social media shout out of an influencer member. Associations have the opportunity to provide exposure to partners and members through their media efforts. Taking advantage of this opportunity can improve assocation's non-due revenue streams.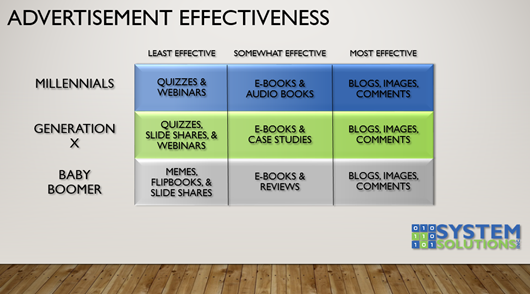 3. Event Advertising
While this is an old school approach, it still is effective to this day. For the older generation and our millennials alike, they want to feel involved and a part of the association. Take this time to network with local vendors to create effective local advertising at your event. By collaborating with local brands you can create a large stream of non-due revenue by inviting them to advertise at your event. By implementing a mobile app for your event you can further drive sponsorships and help the association cut print material cost.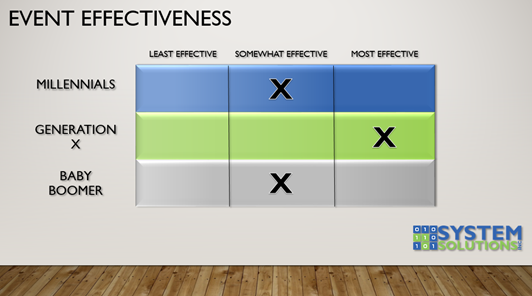 4. Certification Program
Enticing more to millennials, young members are interested in adding anything they can to their resume/portfolio. This can be as small as a sponsored webinar or as large as an official ceritication program.  By giving them the option to further involved in something they are passionate about, you are growing the association and generating more non-dues revenue.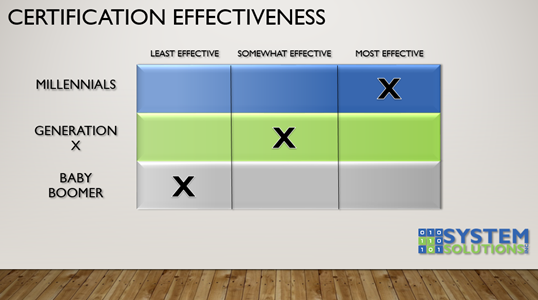 5. Membership Directory
The modern membership directory isn't always just for association members, it can now be leveraged as a complete resource for the association community. This is thProviding a complete listing exclusively for members, and also allowing non-members limited directory access, associations can entice new user. This will tease the benefits of your association to non-members while still growing the association's member list.
Where?
Diversifying your areas of reach and impact are not limited. The more points that you can hit to get exposure and generate your association more revenue the better. Important areas such as your website, email, social media, and white paper are musts.
When?
Similar to when you post on social media, instead of focusing on the amount of content you are putting out there, try to focus more so on the quality and timing of the content so it will be more enticing for your members and partners alike. The end goal is to drive your non-dues revenue generation and if you don't have good content people will be less likely to work with you.
Why?
As time goes on association's non-dues revenue is becoming increasingly important. Statistics have shown that after 2007 nearly 73% of revenue was driven from non-dues and around 50% of associations are saying that it is becoming increasingly important. With these factors and the rise of our technological age we have to be constantly looking into new opportunities and ideas to generate revenue.
As an association your ideas and your innovations are only limited by your imagination.
Comments
comments