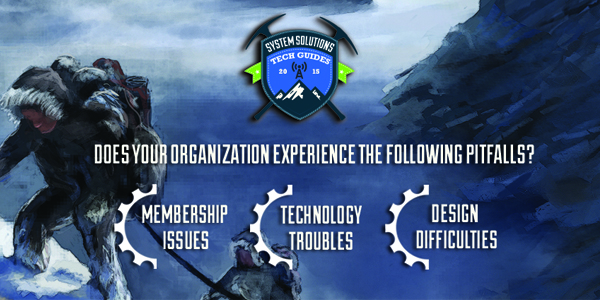 This year System Solutions will be attending the Executive Exchange, an exciting opportunity to network with top-tier associations who are looking for some technical guidance.  The delta in technology is measurable in an almost daily interval.  That's why it's important to have someone guide you through the terrain.
Since 2001, System Solutions has made the leap manageable for associations by providing an intuitive, easy to use Content Management System (CMS), custom modules, expert consulting, and attentive tech support: we not only see you through the planning and building phase of your associations website, we believe in building a long-term relationship with all of our clients.
Here are some of the ways System solutions can help your association overcome some of its biggest pitfalls:
Reducing Cost of Operations: By providing you with a CMS that just works, you can cut down on user management expenses.
Increasing Engagement: SSI makes it easy to place your top content right at your users fingertips.  We also make it easy to for your members to engage with the community with single sign on.
Stay Current with Tech Trends: We help you stand out in a flooded market place with a design that's stylish and functional.
Strategies for forward thinking: Our Content Management System provides ways to innovate and creatively connect with your audience in fresh ways.
Don't Forget the Small Stuff: Small issues can turn into big troubles. Providing your members with easy access to all of your association's social media accounts, strong areas for community, and onsite event registration will make sure your members are having a great experience with your association's site.